SR-12MRDC DC12/24V 8 points DC input relay output controller PLC
SR-12MRDC Power supply DC12-24V 8 point DC input (6 point analog) input 4 point relay output PLC
Performance & Features:
■ This intelligent controller, adopting function block programming, having large programming capacity, being freely programmed according to different users and different fields, can run at your desired time table and the RTC accuracy can reach second and makes your time control more accurate. And up to 128 time sessions can
be set , especially suitable for time-control system."
■ Safety password function makes your program absolutely safe. Before writing program, password can be set. And only after entering the correct password, can the program be modified.
■ It is equipped with a removable, convenient and programmable LCD, providing 64 friendly human-machine interfaces, 32 virtual keys, having the function to display the alarming message and parameter and to modify the parameter. When needed, it can be installed. And when not needed, it can be removed and replaced with an ordinary front panel.Thus the cost will be greatly reduced.
■ The input can receive not only the digital input but also the analogue input to perform the control and . transmission of the temperature, moisture, pressure, flow level unit and so on.
Technical Index:
Power supply
Power
DC12V-24V
Input parameters:
Input No
8(A0-A5,B4-B5)
Digital input
8(A0-A5,B4-B5)
Analogue input
6(A0-A5)
Power range
DC0-24V(digital)/DC0-10V(analogue)
Input signal0
DC0-5V
Input signal1
DC10-24V
Output parameters:
Output No
4(QA0-QA3)
Output type
Relay output
Output voltage
DC0-24V
Output current
Resistive load 10A/Inductive load 2A
Environment temperature:
Running temperature
0℃~55℃
Storage/shipment
-40℃~70℃
Switch frequency:
Mechanism
10Hz
Resistor/light load
2Hz
Sensitive load
0.5Hz
Other parameters:
Clock buffer memory at 25℃
80h
RTC accuracy
Max±5s/day
Protection
IP20
Emission on line
EN55011(B)
The main frequency range
47-63Hz
Function block No
128bit
Program storage capacity
64K
Isolation intensity
IEC1131
Installation Dimensions & Wiring Diagram: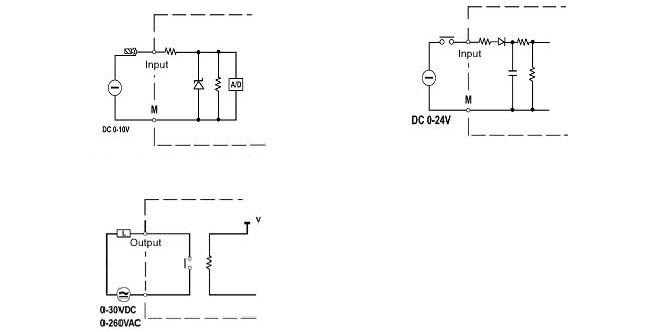 SR intelligent controller is a new type of programmable controller with FBD (Function Block Diagram) programming, which is simpler and easier to learn than the conventional PLC (ladder diagram and instruction).
In the design concept of SR series products, SR-WRT is used as a programming panel to program SR series hosts. On the other hand, SR-HMI is used as a powerful simple Human-Machine Interface to display the status of SR series, and SR-HMI itself is programmable. If you want to program SR by PC, free programming software "Super CAD" with powerful functions is provided.
SR can be used to combine voice modules of SR-VPA, SR-VPD and remote control modules of SR-RCA, SR-RCD; it can perform telephone remote controlling, wireless controlling, voice prompting and auto-dialing functions. Being used with expansion module (SR-20ERA, SR-20ERD, SR-20ETD, SR-20EGD), the input/output points can be expanded to satisfy your requirements. Mostly one SR machine can be connected with five extension modules at most, (it is better you connect with the 3 extension modules) and there are 122 I/O points (74 inputs and 48 outputs) at most.
SR intelligent controller is widely used in automatic control field of industry, agriculture, and automatic house control, which really comes into every part of people's daily life.
Welcome to our website! Please send your words at any time in the following form and ask us, we will contact you and provide you with the corresponding service as soon as possible. Please write in English.