AF-20MR-E2 DC power supply PLC Programmable Logic Controller
AF-20MR-E2 DC power supply 12 points DC input 8 points relay output mini air conditioning plc controller programmable logic controller PLC

Features:
1.Password protection
2.Add power indicator
3.Improve analog accuracy
4.Improve RTC accuracy
5.Improve PLC running speed
6.2 channels with 485 interface and 1 channel with the programing interface
7.Support Text Panel (SH300)
8.Support the standard Modbus RTU protocol (only read)
AF-20MR-E2 DC power supply PLC Programmable Logic Controller
Product description
FAB2 Intelligent Controller Series is a new programmable controller launched by YUMO, with the programming by FBD (Function Block Diagram) , which is simpler and easier to learn than the conventional PLC (ladder diagram and instruction). In the design concept of YUMO FAB2 series products, traditional separated controller of PLC is combined with the writer on which the program can be written directly by using the function keys on the LCD front panel in order to reduce the cost and bring convenience to users. YUMO FAB2 is very compact and light-weighted, especially suitable for internal installation usage.
In addition, FAB2 intelligent controller series can perform the local and remote Internet communication and monitoring. And FAB2 can be used with voice module to perform telephone remote control, voice prompting, auto-dialing and other functions. At present, the YUMO FAB2 is widely used in various areas such as industry, agriculture and automatic house control. It can be used almost everywhere.
Features:
1.Password protection
2.Add power indicator
3.Improve analog accuracy
4.Improve RTC accuracy
5.Improve PLC running speed
6.2 channels with 485 interface and 1 channel with the programing interface
7.Support Text Panel (SH300)
8.Support the standard Modbus RTU protocol (only read)
Model NO.: AF-20MR-E2
This model is an DC power supply,rated voltage can be DC12/24V, 12 points DC input, 8 points relay output, without LCD.
PLC AF-20MR-E2 A1B2 is for general MODBUS communication port, and A2B2 for connect SH-300 only.
Exquisite and compact design

Multi-functional, easy operating, convenient, easy learning
Dimension:
(unit:mm)
Take the 10 points module as an example. The 20 points modules share the same width and height, the only one difference exists in the length.
Item

AF-10MR-A2
AF-10MR-D2
AF-10MR-E2
AF-10MT-D2
AF-10MT-GD2
AF-10MT-E2
AF-20MR-A2
AF-20MR-D2

AF-20MR-E2

AF-20MT-D2
AF-20MT-GD2
AF-20MT-E2
Surge Immunity
2kv(common mode), 1kv(differential mode), Level 3 (IEC61000-4-5)
Electrostatic Discharge (outer casing)
±8kv(air discharge)/±6kv(contact discharge), Level 3 (IEC61000-4-5)
Ambient Temperature
-10℃~+55℃
Storage Temperature
-40℃~+70℃
Ambient Humidity
5%~95%RH
Degree of Protection
IP20(Non-waterproof)
Installation
Fixing with M3 screws or Standard DIN rail mounting
Dimensions (mm)
71.6*90.4*51.3(10 points);126.4*90.4*51.3(20 points)
Programming Language
FBD
Points
10 points/20 points
Memory Capacity
127 FBDs
Real-time Clock
160h
Password Protection
yes
Analog Operation
At most 12 channels with DC 0-10V voltage
Simulate Monitoring
Yes
Communication Interface
support 2 channel with RS485 and 1 channel with program interfaces
Baud Rate
9600bps/19200bps
Communication Protocol
Self-defined protocol/MODBUS RTU protocol

Power Supply

Rated Voltage
AC100-240V
DC12-24V

AC/DC12-24V

DC12-24V
DC12-24V
DC12-24V
Permissible Range
DC85-260V
DC10-28V

AC/DC10-28V

DC10-28V
DC10-28V
DC10-28V
Power Consumption
<10w
<7w

<7w

<2w
<2w
<2w

Digital Input

Input Type
NPN/PNP
NPN/PNP

NPN/PNP

NPN/PNP
NPN/PNP
NPN/PNP
Input Signal 0
AC0-40V
DC0-5V

AC/DC0-5V

DC0-5V
DC0-5V
DC0-5V
Input Signal 1
AC80-240V
DC10-24V

AC/DC10-24V

DC10-24V
DC10-24V
DC10-24V
Isolation
Photoelectric isolation
/
/
/
/
/
Isolated Group
6/12 groups
Isolated Voltage
2500/5000Vr.m.s

Digital Output

Output Type
Relay
Relay

Relay

Transistor(NPN)
Transistor(PNP)
Transistor(NPN)
Isolation Method
Relay isolation
Relay isolation

Relay isolation

-
-
-

Analog Input

Input Type
--
(DC0-10V)/6 inputs
--
(DC0-10V)/6 inputs
(4-20mA)/2 inputs
--
(DC0-10V)/12 inputs
(DC0-10V)/12 inputs
(DC0-10V)/12 inputs
Product pictures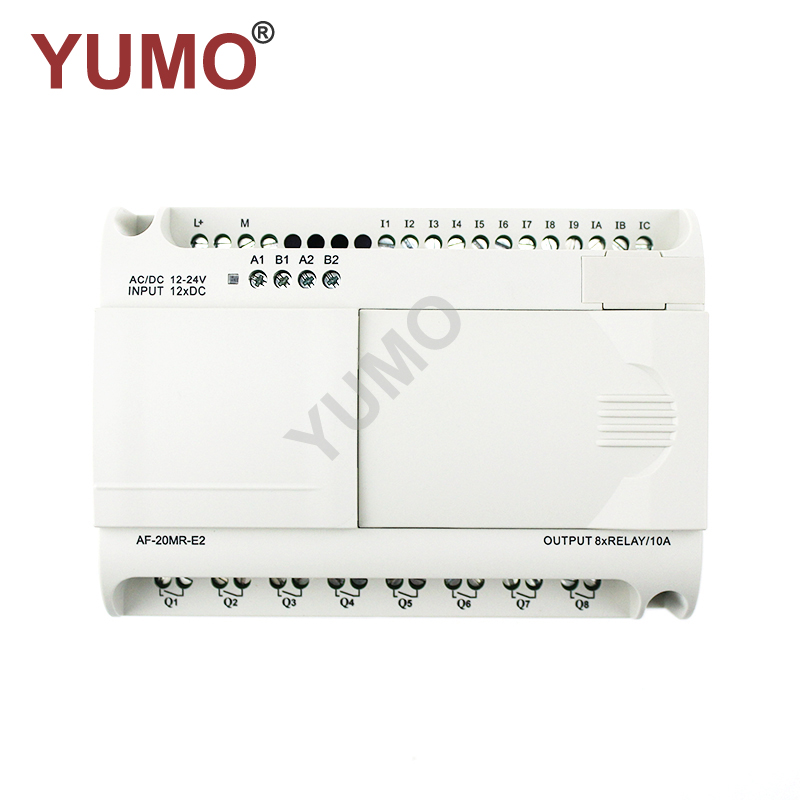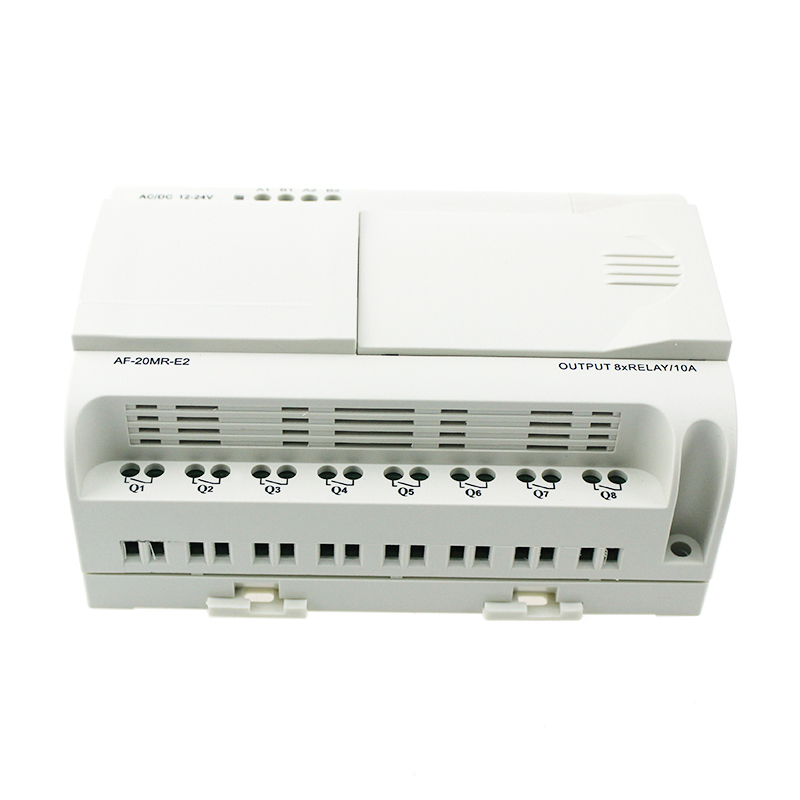 Welcome to our website! Please send your words at any time in the following form and ask us, we will contact you and provide you with the corresponding service as soon as possible. Please write in English.