LM24 M24 detection distance 8-10mm Inductive proximity switch sensor
Proximity switches are the most common solution for non-contact detection. And the inductive type is the widely used proximity switches, which is through the electromagnetic waves to detect the metal abject near the sensor detection surface. In application , this is a very simple technology to detect 1"~2"metal object . YUMO Electric offer different series proximity sensor , that included inductive, photoelectrical, capacitive and etc. YUMO Electric continues to improve the performance and quality , enabling the sensors in a world-class level . If you are searching for proximity switch , YUMO will be your best choice .
LM24
YUMO
YM0000000042
Inductive proximity switch
24mm OD
8-10mm
NPN , PNP or 2 wires system
NO, NC or NO+NC
Metal
IP65, IP67
Non-flush ; Flush
Available
LM24 series cylinderical inductive proximity switch

Outside diameter 24mm cylinder inductive proximity switch, sensing range 8-10mm . China YUMO offer customized design!



Detecting rang 8mm
YUMO part no.
Flush
DC
NPN
NO
LM24-3008NA
NC
LM24-3008NB
NO+NC
LM24-3008NC
PNP
NO
LM24-3008PA
NC
LM24-3008PB
NO+NC
LM24-3008PC
2 Wires
NO
LM24-3008LA
NC
LM24-3008LB
AC
SCR
NO
LM24-2008A
NC
LM24-2008B
NO+NC
LM24-2008C
Relay output


Detecting rang 10mm
Non-flush
DC
NPN
NO
LM24-3010NA
NC
LM24-3010NB
NO+NC
LM24-3010NC
PNP
NO
LM24-3010PA
NC
LM24-3010PB
NO+NC
LM24-3010PC
2 Wires
NO
LM24-3010LA
NC
LM24-3010LB


SCR
NO
LM24-2010A
NC
LM24-2010B


NO+NC
LM24-2010C
Relay output


LM24 Sensor Characteristics
Output current
DC
200mA
SCR/relay
300mA
Output voltage drop DC/AC
DC<3V AC<10V
Consumption current
DC<15mA; AC<10mA
Standard detected object
24×24×1(A3 Iron)
Repeated precision
0.05
Response Frequency
200Hz/25Hz
Working environment temperature
-25℃ ~+75℃
Insulation resistance
50MΩ
Shell material
Metal
Protection grade
IP67
Alternative model
LJ24A4-10-**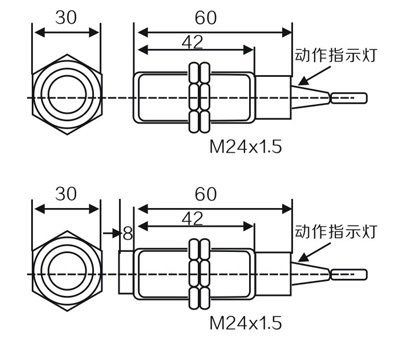 Welcome to our website! Please send your words at any time in the following form and ask us, we will contact you and provide you with the corresponding service as soon as possible. Please write in English.