Safety Light Curtains
Safe and reliable optic screen sensor
Applicable for the safely detection of automatic assemble line. Elevator,danger restricted zone,metal forming machine,punching&shearing machine tool,paper cutter and so on and has protection function.Adopting synchronism scanning technology,concentrated beam path,non working blind area,strong anti-interference ability,and convenient installation
Resistance to mutual interference function it is possible to closely mount more than 2 sets of devices.
Fault self-check,function,power failure stoop,inner component fault stop,connection fault stop,object invading stop signal output
Model:

Detection way

Model

Control output

Detection distance

Optic axis distance

Optic axis number

Detection width

Min.detectable object

4CM
spacing
Trough-beam

GM40-4N

N:NPN
P:NPN
J:Realy output

≤3m

40mm

4

120mm

Φ50mm

GM40-4J

GM40-6N

6

200mm

GM40-6J

GM40-8N

8

280mm

GM40-8J

GM40-10N

10

360mm

GM40-10J

GM40-12N

12

440mm

GM40-12J

GM40-16N

16

600mm

GM40-16J

GM40-20N

20

760mm

GM40-20J

GM40-24N

24

920mm

GM40-24J

2CM
spacing
Trough-beam

GM20-4N

N:NPN
P:NPN
J:Realy output

≤3m

20mm

4

60mm

Φ30mm

GM20-4J

GM20-6N

6

100mm

GM20-6J

GM20-8N

8

140mm

GM20-8J

GM20-10N

10

180mm

GM20-10J

GM20-12N

12

220mm

GM20-12J

GM20-16N

16

300mm

GM20-16J

GM20-20N

20

380mm

GM20-20J

GM20-24N

24

460mm

GM20-24J
Performance
Mains voltage

N:12-24VDC J:10-48VDC/VAC




Consumption current

100mA以下 Under 100mA

Response time

200mS以下 Under 200mS

Output form

Collector open circuit NPN type:current 100mA,residual voltage 1.6v

Output state

ON ON when all the optic axis is photic

Optic source

LED Infrared ray LED

Connection way

With specific cable connector

Shell material

PMMA Shell:Alalloy,color filter cover:PMMA

Environment-resisting light

Incandescent lamp:intensity of illumination of photic surface 3000Lx,sunlight:intensity of illumination of photic surface 10000Lx.

Ambient temperature

Working:-10~50°,Storage:-40~70° -10~55°

Environment humidity

Working:35-85RH, Storage:35-95%RH

Vibration


Vibration frequency:10-50Hz,Vibration range:1.5mm,each direction of X、Y、Z for 2hours

Shock

Acceleration:500/s (about 5og)each direction of X、Y、Z for 3 hours
Cable connector

Overall

Type

Length

Application

GML-4-4

5m

For four-core projector

GML-4-3

5m

Three our-core projector
| | | | | |
| --- | --- | --- | --- | --- |
| Type | A | B | C | D |
| GM40-4 | 120 | 180 | 30 | 40 |
| GM40-6 | 200 | 260 | 30 | 40 |
| GM40-8 | 280 | 340 | 30 | 40 |
| GM40-10 | 360 | 420 | 30 | 40 |
| GM40-12 | 440 | 500 | 30 | 40 |
| GM40-16 | 600 | 660 | 30 | 40 |
| GM40-20 | 760 | 820 | 30 | 40 |
| GM40-24 | 920 | 980 | 30 | 40 |
| GM40-32 | 1240 | 1300 | 30 | 40 |
| GM40-40 | 1560 | 1620 | 30 | 40 |
| GM40-56 | 2200 | 2260 | 30 | 40 |
| GM40-64 | 2520 | 2480 | 30 | 40 |
| | | | | |
| --- | --- | --- | --- | --- |
| Type | A | B | C | D |
| GM40-4 | 60 | 120 | 30 | 20 |
| GM40-6 | 100 | 160 | 30 | 20 |
| GM40-8 | 140 | 200 | 30 | 20 |
| GM40-10 | 180 | 240 | 30 | 20 |
| GM40-12 | 220 | 280 | 30 | 20 |
| GM40-16 | 300 | 360 | 30 | 20 |
| GM40-20 | 380 | 440 | 30 | 20 |
| GM40-24 | 460 | 520 | 30 | 20 |
| GM40-32 | 620 | 680 | 30 | 20 |
| GM40-40 | 780 | 840 | 30 | 20 |
| GM40-56 | 1100 | 1160 | 30 | 20 |
| GM40-64 | 1260 | 1320 | 30 | 20 |

Application illustration
● Protect personnel from invading the automatic assembling machine
● Provide safeguarding for the robot workingarea
● Check it car go through the garage door or not

● Protect a loader or unloader from damage by invading object
● Confirm a unit –taking from the electric device
●Protect chip mounter from damage by invading objects

Features
Safety light curtains,also called photoelectric safeguarding device,photoelectricprotector,or area interrupted by an object,the device sends out a signal to stop the operating machinery and equipments,lowering the possibility of personal being and effectively safeguarding the workers.
Taking advantage of the other brand and adopting the infrared scanning technology,thestord's safety light curtain of GB series is a new-developed automation-controlling product with reliable quality.
The emitter light curtain and receiver are installed at two sides,while a SCM and a microprocessor are put inside to digital program the device,forming a safeguarding shield of infrared light rays and the keeping the emitter and receiver in the state of high-velocity scanning.When personnel or objects invade the security area,the control system quickly respond and send out a electric signal to make the load act and when the personnel or objects leve the area,the load automatically closes ,so as to project the equipments and personnel from injures.
The safety light curtain of GB series only contains a set of emitter and receiver without extra controller.It can be directly connected to rays or other kinds of computer numerical ports with aviation connectors or cables.
Safety light curtain is the most effective device in protecting operating personnel punching machines and is better than safety fence,machinehandles,mechanical dial hands and other mechanical protective devices, effectively avoiding safety accidents which result from error operations or machine problems during producing.It can be used for general machine tool,high-performance punching machine,mechanicalpress.Hydraulicpress,laminatingmachine,laminator,plate shearing machine,packaging machine and other automatic equipments,and can also be used foe protection and security of muti-sided areas.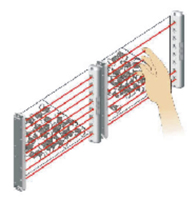 1.Accord with IEC61496-1/2 standard
2.Adopt advanced infrared synchro-scanning technology,excellent optical performance and divergence angle of 2.5 degree,easy to align and maintain
3.Small overall dimensions,aluminum alloy shell,strong and lightweight
4.Various specifications and resolutions of 10/20/40MM
5.Electric connection:4-point M12 connector
6.Protective width of 4-128CM
7.Compact size,cross sectional area of 25*25MM for GB series
8.Resolution and protective width can be design by customer order,and some other various connectors and extra functions available by order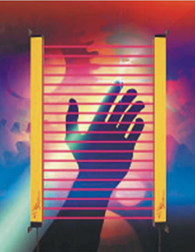 Model definition



Explanation


1.Optical spacing:refer to the distance between the centerlines of two light points
2.Resolution:the minimal size can be protected by the light curtain,approx,optical spacing plus the width of the optical lens.
3.The minimal detectable object:the minimal object that can make the light curtain send out signal by entering the safe
guarded are

4.Safe distance:when a body is moving vertically toward the safeguarding area(under common situation),
safe distance can be calculated by the following formula:
D=K*T+C
D:safe distance(mm)the minimal distance necessary from the dangerous part to the edge of safeguarding area.
K:the peed of the operator 's body(hands,fingers etc.)entering the area(mm/s),usually 2000mm/s
T:the response time of the whole device(s)T=TM+TB
TM:the maximum stop time of the machinery
GB:the response time of GB series light curtain
C:extra distance calculated with the size of the minimal detectable object(mm)C=8*(d-14)
d:the diameter of the minimal detectable object(usually 32mm)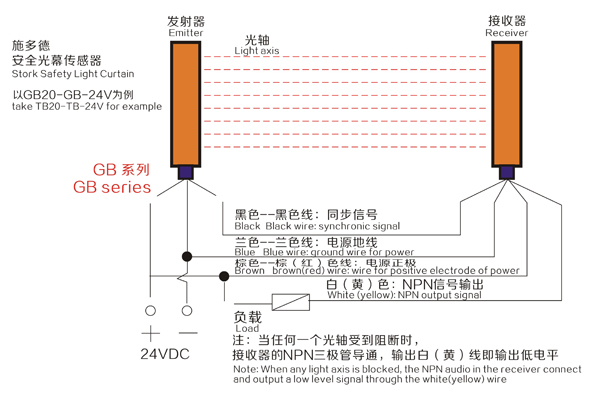 Definition of the safety light curtain's ratings


Grade B:Use the basic technology for reliability in design,no use of safe technology,any fault may lead to security defect,are not safe products.


GradeA:use well tried safe parts and technologies to ensure the safety of products.The possibility of safety failing is less than Grade B, Safety performance is dependent on the components and the working principle.Has reliable components and technology.contains a single loop without self detection.
W
iring diagram of safety light curtain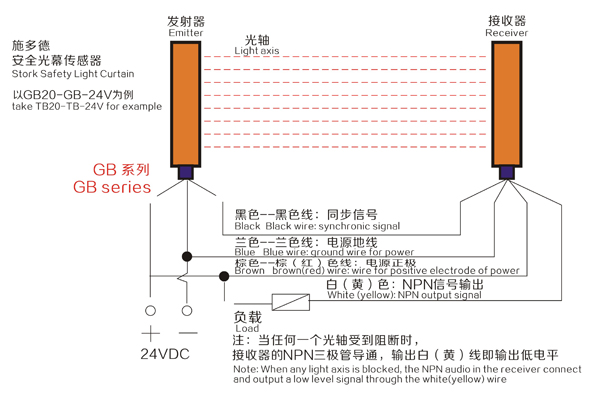 Installation instructions for GB Series safety light curtain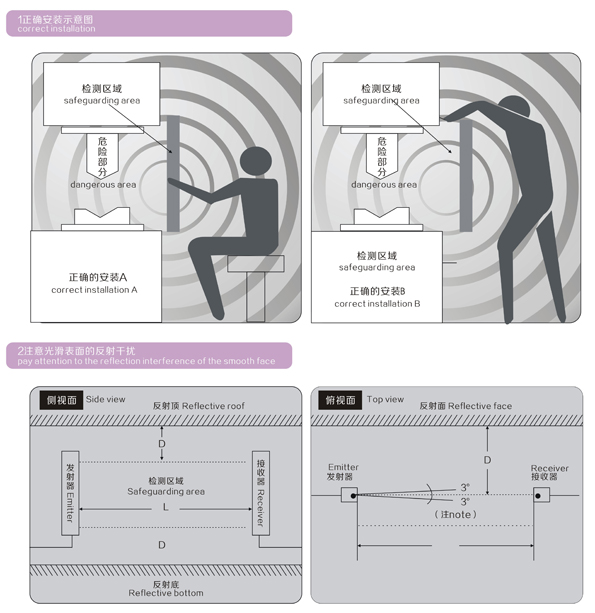 When light interference from the reflective face exists, the internal sensors may stop detection,so as to stop safeguarding. When the distance between emitter and receiver is in the range from 0-3meters,D is no less than 0.16m;and in the range from 3-5meters, D=LX tanO (0.052)

Note:Stord safety light curtain is equipped with excellent Len system. The effective aperture angle of light axis is +2.5, meeting the requirements per IEC61496-2. O=3 during installation.
Installation and commissioning of GB series safety light curtain



Installation instructions


1. Check if the GB series safety light curtain is firmly fixed on the equipments or not,and check if the emitter and receiver are in the same level,and also make sure that safeguarding area with emitter and receiver in a line as the boundary be a rectangle in a level plane.
2. Check if the emitter and receiver are connected with cables right in place,and check if the terminals are rightly and firmly connected to power and control units.

3. Supply the safety light curtain with power,and the light curtain sensors will start self-checking,synchronization,andcalibration,After around 1 second,the yellow indicator of the emitter stay stable and all the indicators of the receiver go out,indicating that the light curtain start working.
The operating mode of GB series safety light curtain:


1.when no object invades the safeguarding area,the receiver is receiving light rays,the indicator of receiver is out,and yellow indicator of the emitter keeping lighting.Start the safeguarded equipments,theequipments work well.

2.When some object(no smaller than the minimal detectable object or resolution ) invade the safeguarding area,the red indicator of the receiver lights up(the receiver is in shaded state or the light rays are blocked),
and the protected equipments are forcedly stopped
3.When the invading object quit the safeguarding area,the light curtain sensor recover to the state 1,and protected equipments continue working.
4.After the light curtain sensor start working,uses a testing stick of the size of minimal detectable object or some other opaque object of the same diameter to invade vertically into the protected area and to horizontally move in the area clockwise and counter clockwise.The red indicator of the receiver should keep lighting and the protected equipments do not work.




Safety check


To effectively protect the personnel and machinery,after the light curtain sensor starts working,as safety check should be executed strictly step by step every time before starting the protected equipments and make notes on a notebook.The safety check is same as the final two steps in commissioning.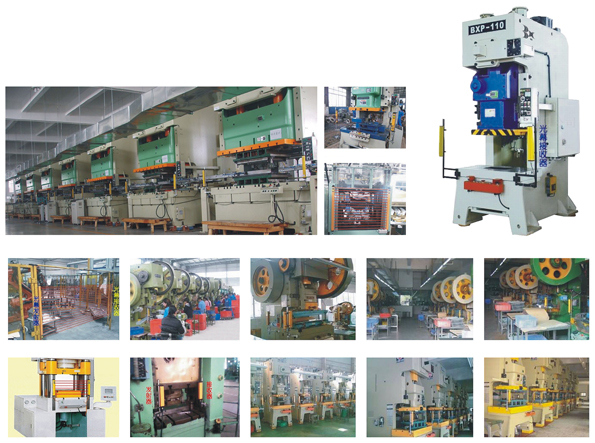 With finger detecting type,hand detecting type, wrist and other body part detecting type available for selection, choose the finger detecting type if the dangerous source is close to the light curtain and choose the economic wrist detecting type if the dangerous source is relatively far from the curtain.Customer may choose different type according to own need.

Stord safety light curtain has many installation heights available for choice to meet the safety requirements during operation.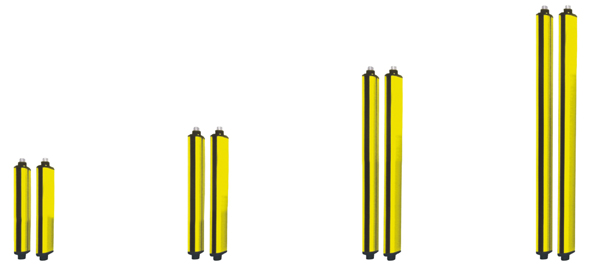 Output and wiring of safety light curtain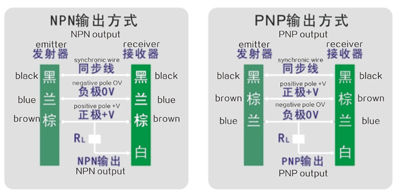 Welcome to our website! Please send your words at any time in the following form and ask us, we will contact you and provide you with the corresponding service as soon as possible. Please write in English.