PBS-03JN AGV Scanning laser Range finder
The Hokuyo PBS-03JN Infrared Scanning Infrared LED Obstacle Detection Sensor is a less expensive alternative to laser range finders in indoor environments. This infrared laser sensor is perfect for robotic applications. The PBS-03JN is able to report obstacles from 200mm to 3000mm in a 178.2° arc (1.8° angular resolution). Its low power consumption, 24V 250ma, allows it to be used on battery operated platforms.
HOKUYO PBS-03JN AGV Scanning laser Range finder
Infra-red LED light source, distance measurement type obstacle detector. Fine settings available for each pattern, greatly improved than normal reflective photo sensors. Scanning angle: 180°, compact body with height of 60mm.
Description
Hokuyo's PBS-03JN detectable range is 200mm to 3000mm
100msec/scan
24V operating voltage
178.2° area scanning range with 1.8° angular resolution
RS-232C Interface

Wide scanning angle ! Super-small size !



Low cost
Light weight (500g)
Compact size (75 x 70 x 70mm)
Response time 180msec or less (Scanning speed 1 rev./100msec)
1-year warranty
Structure(Light scanning image)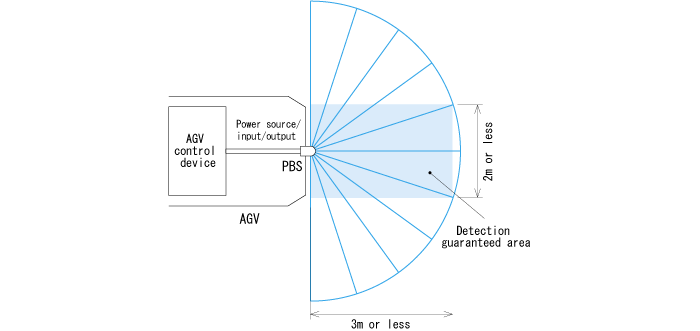 Welcome to our website! Please send your words at any time in the following form and ask us, we will contact you and provide you with the corresponding service as soon as possible. Please write in English.