Hokuyo URG-04LX-UG01 Scanning Laser Rangefinder
Robot`s eye, No.1 market share.
-> Revolutionary low price!!
-> Laser range finder for autonomous robot.
-> Best for students and researchers who are involved in robotics.
-> Smart to run on USB bus power.

Model:URG-04LX-UG01
Brand:Hokuyo
Features
-> Light weight(160g).Best for robot!
-> Low-power consumption(2.5W) for longer working hours.
-> Wide-range(5600mm×240°).
-> Accuracy(±30mm).*
-> Distance and angle data output with high angular resolution(0.352°).
-> High quality product under Total Quality Management.
-> Designed, manufactured and inspected by HOKUYO.

* For distance above 1,000mm, accuracy is ±3%.
Technical Parameter
Model No.
URG-04LX-UG01
Power source
5VDC±5%(USB Bus power)
Light source
Semiconductor laser diode(λ=785nm), Laser safety class 1
Measuring area
20 to 5600mm(white paper with 70mm×70mm), 240°
Accuracy
60 to 1,000mm : ±30mm,
1,000 to 4,095mm : ±3% of measurement
Angular resolution
Step angle : approx. 0.36°(360°/1,024 steps)
Scanning time
100ms/scan
Noise
25dB or less
Interface
USB2.0/1.1[Mini B](Full Speed)
Command System
SCIP Ver.2.0
Ambient illuminance*1
Halogen/mercury lamp: 10,000Lux or less, Florescent: 6000Lux(Max)
Ambient temperature/humidity
-10 to +50 degrees C, 85% or less(No condensation, no icing)
Vibration resistance
10 to 55Hz, double amplitude 1.5mm each 2 hour in X, Y and Z directions
Impact resistance
196m/s2, Each 10 time in X, Y and Z directions
Weight
Approx. 160g
*1 Thease products are only for indoor applications. Strong sunlight may cause error output.
Dimension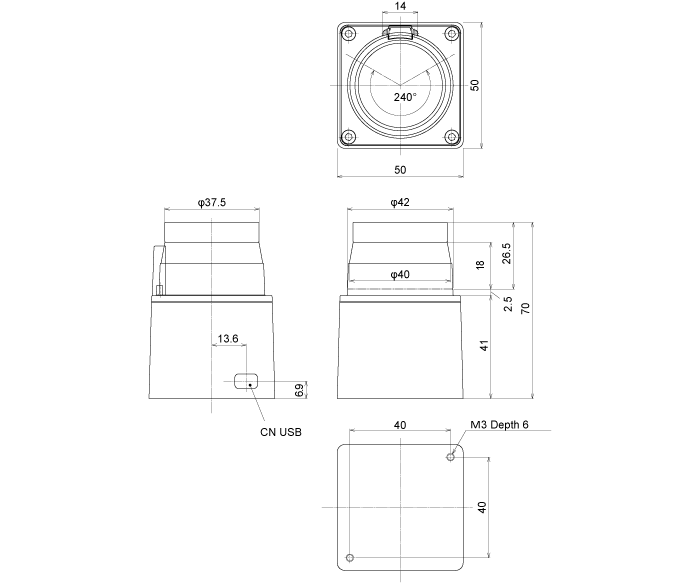 Welcome to our website! Please send your words at any time in the following form and ask us, we will contact you and provide you with the corresponding service as soon as possible. Please write in English.