RS2C-N11 Color Mark Sensor
Small light sport,adapt to precise positioning in the case of defocusing and jittering.
High working frequency,precise positioning for the fast moving marks.
Use synchronic technology,strong ability to resist optical interference.
With coaxial design,can be reliably used for aluminum foil and other reflective films.
High sensitivity,color resolution is above gray scale of grade 16.
With act on lighting/act on darken functions optical.

Model:RG2C

Brand:YUMO

Code:YM00006653
RG2C series of color-sensor


Small light sport,adapt to precise positioning in the case of defocusing and jittering.
High working frequency,precise positioning for the fast moving marks.
Use synchronic technology,strong ability to resist optical interference.
With coaxial design,can be reliably used for aluminum foil and other reflective films.
High sensitivity,color resolution is above gray scale of grade 16.

With act on lighting/act on darken functions optical.
Technical Parameters
Type RS2C-N11

working frequency

2000Hz

detection range

9mm

power voltage

12-24V

source

red,green,blue,and white

spot

1.5mm

power output

NPN(output),100mA

circuit protection

Power reverse connection protection,output short-circuit protection

the temperature

(save)-30℃~100℃,(work)0~60℃

size

68*50*16mm
Size appearance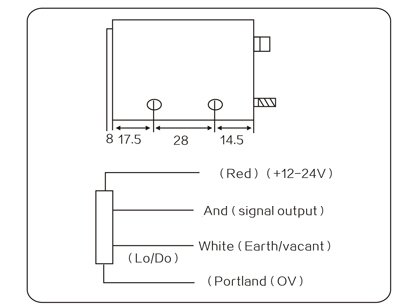 Welcome to our website! Please send your words at any time in the following form and ask us, we will contact you and provide you with the corresponding service as soon as possible. Please write in English.